Boston flooding: Two warnings ahead of high tide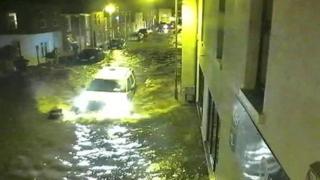 People in a Lincolnshire town where flood defences were damaged by a tidal surge are being warned to prepare for further flooding.
Parts of the flood defences were temporarily repaired after the flooding in Boston in early December.
But the Environment Agency expects Boston to experience its highest tide level since the repairs later.
It has issued two flood warnings, with the high tide expected at about 20:00 GMT.
The Environment Agency said it was "closely monitoring the situation".
A flood warning means that flooding is expected and "immediate action is required".
One warning is for waterside properties between Grand Sluice and the docks.
The other is for waterside properties between Town Bridge and Haven Bridge, including Haven Hall.
The Environment Agency said Boston was one of the areas most affected by the tidal surge a month ago.
Hundreds of people were forced to leave their homes and St Botolph's Church, known as Boston Stump, was also damaged.