St Wulfram's spire repairs set to begin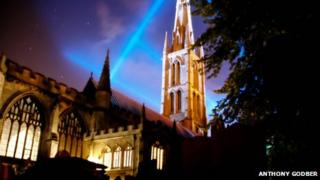 A Lincolnshire church described as having "the finest steeple in England" has been awarded a grant of £40,000 for repairs.
St Wulfram's Church, in Grantham, is using money from the National Churches Trust to help mend its spire.
Constructed in the 14th Century, at 86m (282ft), the spire ranks as one of the highest in the UK.
Work to put up scaffolding on the building is expected to start by the end of February.
Jean Parker, appeal chairman for the church, said: "The money will help us to dismantle the top of our enormous spire and rebuild it.
'Hard at it'
"We've still got fundraising events planned and we've still got to go hard at it but this is such an enormous help and it does put us within sight of the end."
The total cost of repairing the top 40ft (12m) of the spire is about £430,000 - with English Heritage providing funding of £200,000.
Mrs Parker said a further £60,000 was still needed to complete the repairs.
However, she added work would have to start soon in order to prevent a pair of peregrine falcons retuning to the Grade I Listed building to nest.
She said if the birds return "we can't do any work".
Newspaper columnist and author Simon Jenkins wrote about the church in his book England's Thousand Best Churches and Victorian art critic John Ruskin supposedly swooned when he first saw it.
The grant will help fund the replacement of corroded iron rods and repairs to stonework.