PCC Alan Hardwick spent £160,000 on 'unnecessary' suspension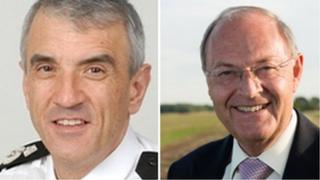 Lincolnshire's police and crime commissioner spent £160,000 by 'unnecessarily' suspending the chief constable, a report found.
Temporary police chief Neil Rhodes was suspended by the force's PCC, Alan Hardwick, in February 2013 over an employment dispute.
A judicial review found in Mr Rhodes' favour and he has since been given the job permanently.
A special task group report said the review could have been avoided.
Lincolnshire's police and crime panel commissioned the report, which details a series of recommendations to Mr Hardwick, the Home Office, the Independent Police Complaints Commission, the chief constable and the Association of Chief Police Officers.
Chris Cook, chairman of the task group, said the judicial review "could have been avoided" if Mr Hardwick had not been so quick to suspend Mr Rhodes.
"It has cost a lot of money," he said. "In all, around our costs we've reviewed, we think there's about £160,000 worth of costs."
Mr Cook said there was no evidence to suggest the chief constable was suspended simply because Mr Hardwick did not want him in the post.
But he said Mr Hardwick still maintains he did the right thing.
In a statement, Mr Hardwick said he and the chief constable had "moved on from the difficulties of last year".
"I am pleased it is recognised, as we have always said, that the chief constable and I work together effectively," he added.
"I also look forward to further developing the already positive and professional relationship I have with the panel, which the report also recognises."
The panel's report made seven recommendations to Mr Hardwick - a former TV presenter - including he should seek professional advice over media and press releases if a senior officer is to be investigated and that he should improve his record keeping and note taking.
In recommendations to the Home Office, it said an induction course should be created for new PCCs, with a focus on police regulations and employment law/human rights legislation.
Mr Rhodes was suspended over his involvement in an employment dispute but a report by Greater Manchester's chief constable Sir Peter Fahy concluded there was no evidence Mr Rhodes had acted improperly.