PCC Alan Hardwick asked to apologise to chief constable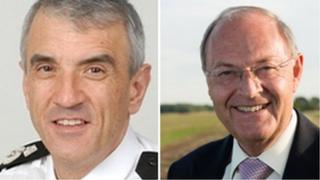 Lincolnshire's police and crime commissioner Alan Hardwick has been asked to apologise for suspending the chief constable.
Temporary police chief Neil Rhodes was suspended by the force's PCC last February over an employment dispute.
But a judicial review found in Mr Rhodes's favour and he has since been given the job permanently.
The police and crime panel, which oversees the work of the PCC, has made the request to Mr Hardwick in writing.
'Toothless tiger'
Mr Hardwick said he would respond after he received the letter from the panel, but to do so before would be "inappropriate and discourteous".
The move follows a report by a special task group commissioned by the panel, which details a series of recommendations to Mr Hardwick, the Home Office, the Independent Police Complaints Commission, the chief constable and the Association of Chief Police Officers.
Norman Norris, chair of the panel, said: "One of the main reasons for our decision to seek an apology is the feedback received from members of the public who were overwhelmingly critical of the commissioner."
He added: "It is a matter of deep regret that police and crime panels throughout the country do not have the sanctions available to them to censure commissioners.
"All they can do is make reports and recommendations - which is what our task group have done."
He conceded the panel was something of a "toothless tiger", with only limited powers.
A report by Greater Manchester's Chief Constable Sir Peter Fahy concluded there was no evidence Mr Rhodes had acted improperly.