Bomber Command centre to 'echo' Lancaster shape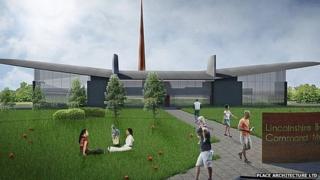 A centre dedicated to Bomber Command will be built in a design "echoing the crouching beauty" of one of its most famous aircraft, the Lancaster bomber.
The centre in Lincoln - to be named after the aircraft's designer, Roy Chadwick - will tell the story of more than 55,000 personnel killed in WW2.
The Lancashire-born engineer designed for Manchester aviation company Avro.
Lincolnshire Bomber Command Memorial Trust (LBCMT) said the centre could have "no better name".
LBCMT's Nicky Barr said the centre would "help provide an understanding of the effect the campaign had on the civilian population in continental Europe and at home".
Steel spire
She said the centre's design was based on the layout of a Lancaster Bomber, "echoing the crouching beauty of its form".
She added that the name had been chosen because the trust "felt that Roy's influence and connection was of such great note that there could be no better name for the centre".
The Avro Lancaster is one of World War Two's most recognisable British aircraft.
It is most famous as the aircraft involved in the Dambuster raids, which saw 19 Lancasters attack German dams with Sir Barnes Wallis's "bouncing bombs" in 1943.
The Chadwick Centre will explain the story of Bomber Command and include details of the 55,573 personnel who lost their lives in raids over Europe between 1939 and 1945, the highest losses rate of any major branch of the British armed forces.
The trust's plans for the site also include the construction of a 50m (164ft) steel spire engraved with the names of the 25,611 airmen who died while based in Lincolnshire.
The spire will face Lincoln Cathedral, a landmark used by many pilots and navigators as a beacon to let them know they had returned home safely.
The trust also plans to create a database of all 125,000 airmen, ground crew and support staff, who were part of Bomber Command in World War Two.