Stamford Town Council crackdown on 'hazardous' A-boards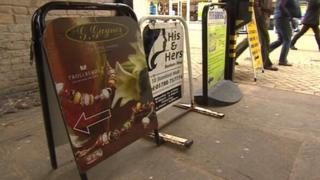 Some Lincolnshire town traders are angry that their advertising boards outside their businesses will be confiscated if they are not removed.
Stamford Town Council said it received complaints about a rise in unauthorised A-boards placed in hazardous locations breaching the Highways Act.
It said retailers had until the end of the month to remove the illegal boards in the interests of public safety.
The traders said their A-boards were a vital way to attract shoppers.
Local businesses have accepted that the law forbids obstructing the highway but said it was possible to use A-boards if people were sensible about it.
Tim Lee, from Stamford Town Team, a collection of businesses, said traders were happy to discuss the use of the boards and "will co-operate" with the town council.
"If we can agree to some kind of code to say what's allowed and what's not, so everybody know's where they stand then we can police it ourselves," he said.
'Nasty letter'
Stamford Town Council said if businesses did not have a licence to have items on the pavement outside their shops, which included A-boards, they could face legal action if the boards caused an accident.
It said in its initial inspection over 60 retailers, identified to have obstructive unauthorised A-boards, were sent a letter of warning.
However, the authority said: "Since the issue of the letter there has been a tremendous improvement and a number of signs have been voluntarily removed.
"We appreciate these are challenging times for retailers but they need to abide by the law.
"The town council is trying to support all traders, however the concerns of pedestrians also need be taken into account."
Clothes shop owner Sarah Sewell said she has received many supportive responses to her online message about the "ridiculous" demand to remove the A-boards.
"It seems very aggressive from the council," she said. "We would have liked to have had a conversation about it rather than a nasty letter."
Kathleen Windsor, who is partially sighted and among those who have complained, said a trip to Stamford town centre was like going on obstacle course.
"I'm frightened I'm going to run into the boards," she said.
The town council said it would take action to remove the A-boards, at the traders expense, if they are not removed voluntarily.