Lincolnshire County Council allowances: £2,000 pay rise approved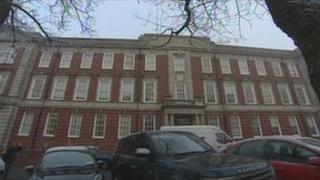 Councillors in Lincolnshire have voted in favour of plans to increase their pay.
Elected members on Lincolnshire County Council can now opt to receive £10,100 a year in basic pay, instead of the £8,184 they currently receive.
The authority's Conservative leader, Martin Hill, said he would not be taking the money.
Labour group leader Jon Hough said the £250,000 it could cost the council should be spent on improving services.
'Not the right time'
"I think it's outrageous," he said. "We are elected by people in the real world and people in the real world don't understand how we can vote ourselves large increases when they are getting either nothing or maybe 1% if they are lucky and having to pay huge rises in energy bills, food costs and so on."
The Independent Remuneration Panel recommended that Conservative Mr Hill's pay should rise by 56%, from £20,448 to £32,000.
He said the recommendation was "reasonable" as it could encourage "people from all walks of life" to take part in local politics.
But he said it "was not the right time" for him to take a pay rise.
"Others will have to look at themselves and what they want to do," he said.
"It's really a matter for them and their electorate."