Edith Smith: Grantham's blue plaque for woman police officer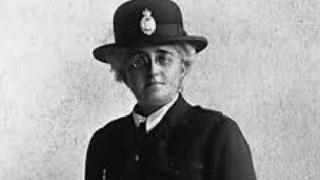 A blue plaque honouring the first woman police officer with the power of arrest is planned for the Lincolnshire town where she worked during World War One.
Edith Smith came to Grantham in 1915 to deal with prostitution in the town after the billeting of 14,000 soldiers in the area.
She resigned from the force in 1918 and died five years later.
Edith Smith is being honoured by Grantham Civic Society who are appealing for donations.
Society spokesman Courtney Finn said: "This unique lady, described as a woman of outstanding personality, fearless, motherly and adaptable, deserves recognition."
He said: "In 1916, PC Smith cautioned a hundred wayward girls in larceny cases, sixteen women and fifteen girls were found to be drunk. Ten prostitutes were convicted, ten were handed over to their parents and fifty were cautioned."
Her report of the time said: "My presence in the streets is sufficient to bring about order among girls."
However, despite her achievements "she seemed to have had a very unhappy life", said Mr Finn.
He added the society is looking to site the plaque on the wall of the old town police station in the street named after her and is appealing for donations to help with the cost.
Lincolnshire Police's assistant chief constable Heather Roach is backing the plans.
She said: "What Edith did was outstanding - she worked seven days a week - she proved the absolute value of women within policing.
"And, it's expanded from there - it's now not only about dealing with women and children - it's dealing with everything that might come your way."
Edith Smith, who worked as a midwife before taking up the police role, was serving a community which saw a massive influx of trainee soldiers during WW1, and with them a influx of prostitutes from Nottingham, Derby and Leicester.
She wrote of her first year: "The appointment has made such a vast difference - the prostitutes have found that it does not pay and the frivolous girls have bowed down."
A report sheet dated 1917, gives a flavour of her duties: "Forty foolish girls warned, 20 prostitutes sent out of Grantham, two fallen girls helped, five bad women cautioned."
Hear more about Edith's career on the BBC's World War One at Home website.