Kris James Bradley convicted of 'horrific' Lincoln hammer attack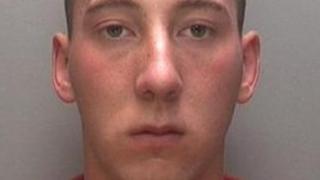 A 23-year-old man has been convicted of attempted murder after an attack on a man with a claw hammer outside a nightclub.
Matthew Probert, 21, from Scunthorpe, was struck on the head during a night out in Lincoln.
Kris James Bradley was charged following the attack in Hungate in September.
A second man, Daniel Ross Burrell, 22, of Macaulay Drive, was convicted of assisting an offender.
Another 22-year-old man, Alex Taylor, of Eastbourne Street, pleaded guilty to encouraging or assisting the commission of an indictable offence at an earlier hearing.
Mr Probert, a first team player for Scunthorpe Rugby Club, was transferred from Lincoln to the Royal Hallamshire Hospital in Sheffield following the attack.
He had been left slumped against a wall with the claw of a hammer protruding from his skull.
Surgeons took an hour to remove the hammer and he remained in hospital for a week.
His father, Mark Probert, said: "We are pleased with the outcome of the investigation into the horrific assault on my son Matthew.
"He could have died and even now he is struggling to come to terms with what happened to him."
Det Sgt Cunningham, of Lincoln CID, warned: "The outcome of this case could have been very different, if you strike someone on the head with a claw hammer there is a very high likelihood that they will be killed or very seriously injured."
Sentencing has been adjourned until 31 March at Birmingham Crown Court.