Sleaford volunteers help toads to cross road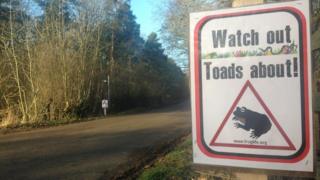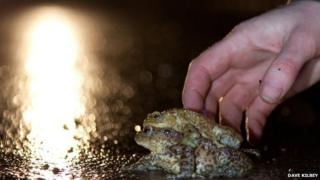 Volunteers are helping toads cross a Lincolnshire road safely as they come out of hibernation and head to their breeding ground.
Hundreds of toads are crossing each night from their woodland habitat, to a breeding pond on the other side of the road.
The volunteers were brought together after residents said they wanted to avoid last year's "carnage".
The toads will cross White Cross Lane, Sleaford until the end of April.
Toad crossing co-ordinator and volunteer for conservation group Froglife, Fiona Cousland, said: "Last year, there were a number of dead toads. Many were couples killed together on the road which was very sad.
"It certainly is a perilous journey. The females will carry the males on their backs and they crawl, so they can't crawl quickly out of danger.
"Warm, damp evenings is when they like to come out and it's very hard for drivers to see them, so they get splattered."
She said volunteers came out after dark and stayed until up to 23:00 GMT to help toads make the journey.
An interactive map on the Froglife website shows areas around the country where volunteers are needed.