Flood-hit Boston gets £4m funding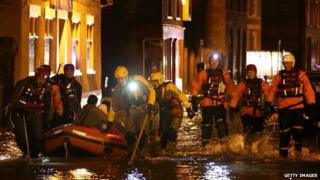 A Lincolnshire town that was flooded this winter could receive more than £4m to help it cope with the effects.
The 695 homes and businesses that were flooded in Boston in December can each apply for up to £5,000 to flood-proof their properties, the borough council has said.
The government has already pledged £922,000 to help businesses.
Residents and firms can apply for the flood-proofing grants from 1 April.
'Benefit the most'
Some homes in the town are still uninhabitable, three months on.
The Department for Environment, Food and Rural Affairs has already pledged £320,000 to help affected businesses, £205,000 to compensate for loss of trade and £397,000 for a severe weather recovery scheme.
Boston Borough Council leader Peter Bedford said that there were more properties flooded in Boston than any other town during the winter floods.
If all 590 homes and 105 businesses that are eligible are offered the full flood-proofing grants, the total cash the government will award will be £4.4m.
Boston MP Mark Simmonds said: "Boston is one of those areas that will benefit the most from these schemes."
The council is also offering business rate and council tax relief to affected properties and is drawing up a scheme to administer the funding.