Crashed Lancaster ND820 crew relatives sought for memorial service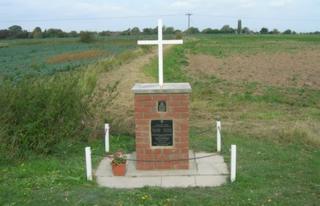 An appeal has been launched to trace relatives of a Lancaster bomber crew who died when their plane crashed in Lincolnshire in World War Two.
A memorial marks the farmland in Bicker where Lancaster ND820 ploughed into the ground on a training flight on 10 April 1944.
A service to mark the 70th anniversary of the crash is being held there at 11:00 BST on 5 April.
The Mayor of Boston wants to trace relatives so they can attend.
Councillor Paul Kenny said: "We know of only one of the families intending to be there on the 70th anniversary.
"It would be really good if more of the crew's families could be represented."
One of the men, Flying Officer TF Wilson, was buried in Stonefall Cemetery in Harrogate.
However, the bodies of the others - Warrant Officer RT Lord, Sergeants RHF Malthouse and JW Nixon, and Flight Sergeants DJ Farrant, JB Bannan and AIG Hunter - were never recovered.
"It is sadly poignant to attend the memorial site and realise that six of the crew are still out there in the fields," said Mr Kenny.
Lincolnshire Aircraft Recovery Group (LARG), a group of aviation archaeologists, had the memorial installed to mark the 60th anniversary.
Flt Sgt Joseph Bannan's grandson found details of the memorial on the internet.
His widow, now in her 90s, was then able to visit the site thought to be her husband's grave, for the first time.
Up until then, she had never known where in England her husband had died.
The Protection of Military Remains Act 1986 prevents aircraft recovery groups from contacting relatives of those killed.
However, LARG member Dave Stubley said it would be good if relatives came forward as a result of the Mayor of Boston's appeal.
"They are likely to be from all over the country," he said.