Boston floods: Defence repairs spend passes £1m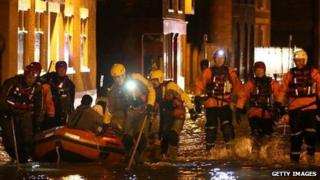 Spending on repairs to flood defences in a Lincolnshire town has passed the £1m mark.
The River Haven in Boston burst its banks on 5 December flooding nearly 700 properties in 52 streets.
The Environment Agency said it had used 3,800 tonnes of stone to fill breaches in flood banks and shore up landslips.
Repairs to flood walls on London Road, White Horse Lane and at Black Sluice Pumping Station are due to be completed by June.
Affected homes and businesses have already been told they can apply for up to £5,000 from separate funds to flood-proof their properties.
A report by the Lincolnshire Resilience Forum put the damage caused to the county's infrastructure at £8.1m.