Jason Manford buys audience drinks as apology for late gig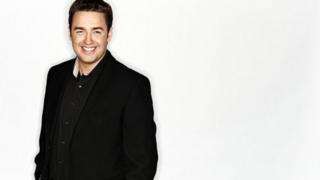 Comedian Jason Manford surprised fans when he bought a round of drinks to apologise for being late to a show.
When realising he would be 40 minutes late for the gig at the Engine Shed in Lincoln on Saturday he announced a free drink for the 835-strong crowd.
The Stockport performer then picked up the £3,530 bar bill as a gesture for keeping people waiting.
Venue manager Abbi Quinn said it was the first time she had seen a celebrity show such generosity for lateness.
"It was really good of him," she said.
"We made the announcement on stage and everyone cheered and then ran to the bar.
"It was quite entertaining for our bar staff for a few minutes."
Manford was playing his second consecutive sell-out night in Lincoln and got stuck in traffic for two hours on the A628 between Greater Manchester and South Yorkshire.
He eventually made it to the stage 40 minutes late at about 20:10 BST.
The comedian later tweeted with a picture of the bar receipt: "Seemed like good idea to offer free drink cos of lateness! But shoulda added Kopparberg to the banned list of drinks!"