Kris James Bradley jailed for 'horrific' Lincoln hammer attack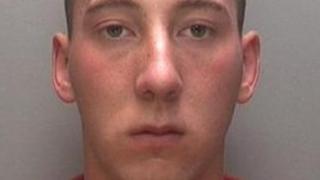 A man who attacked a rugby player with a claw hammer leaving the weapon embedded in his victim's head has been jailed for 15 years.
Matthew Probert, 21, from Scunthorpe, was struck on the head during a night out in Lincoln.
Kris James Bradley, 23, who was found guilty of attempted murder earlier this month, was told by the judge his attack was one of "horrific violence".
Mr Probert's family welcomed the sentence.
At Birmingham Crown Court, Judge Melbourne Inman QC, said: "Your intention was terrible.
"In my experience, it was a singular attack without warning, in which you hit him so hard the claws of the hammer penetrated to their full depth through the front of the skull and embedded in his brain."
Bradley received an extended sentence of 15 years immediate custody, with three further years on licence.
In addition, Bradley, of Kent Street, Lincoln, was given a six month jail term to run concurrently for punching and knocking unconscious a man during a separate street attack outside a kebab shop in Great Yarmouth on 27 February, last year.
The court heard Matthew Probert, a prop with Scunthorpe Rugby Union Club, was on the brink of turning professional before the attack, last September.
The prosecution said the assault had robbed him of any immediate career in the sport.
A second man, Daniel Ross Burrell, 23, of St Nicholas Street, Lincoln, was convicted of assisting an offender.
He was handed a four-and-a-half year term after he was found guilty of encouraging or assisting in the commission of an offence of grievous bodily harm with intent.
Burrell had driven into the city after a phone message from Bradley asking for help.
He had the hammer in the car, and allowed it to be taken knowing it would be used in the subsequent attack.
A third man, 22-year-old Alex Taylor, of Eastbourne Street, Lincoln, was was given a 16-month sentence for assisting an offender.
The court was told he had "kept watch" while the attack took place.
After sentencing, Matthew's father Mark Probert said: "We are extremely satisfied as a family with the outcome of the trial against all three defendants and the sentences for what was a truly horrific and unjust act of violence against my son."
Det Con Martin Ryder, of Lincolnshire Police, said: "The actions of Bradley showed nothing other than an attempt to kill Matthew Probert.
"In many ways the physical injury he sustained that night, however horrific, is now only one element of his continuing recovery."
"Matthew was on the brink of beginning a professional career in the sport of rugby, but now faces the challenges of rebuilding his future, his confidence and his fitness," he said.