Paralympian Jade Etherington in 'debt' after Sochi success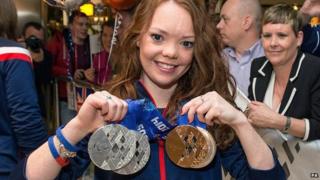 The most successful British woman in Winter Paralympic history, Jade Etherington, may not compete in the next games because of a "large debt".
The visually-impaired skier, from Bourne, in Lincolnshire, and her guide Caroline Powell, who's from Essex, won four medals - three silver and a bronze - in Sochi.
Ms Etherington's grandfather said she has the debt due to a lack of funding.
The Paralympic medallist was the first person to be awarded the freedom of her home town of Bourne on Monday.
Bob Burgess, Ms Etherington's grandfather, said: "It's all to do with funding; she's come away with a large, large debt - her and her guide.
"It's not only Jade, it's others like her. It's beyond words, it shouldn't happen."
Ms Etherington, 23, said: "I only ever aimed to do Sochi, I never even thought that far afterwards.
"I'm going to have to make a tough decision as to whether I do carry on and spend another four years and try and get funding."
Janet Inman, head of the Lincolnshire Sports Partnership, said: "Jade's on our elite programme, we fund her and it gives her a little bit of money, but there's not enough money to support elite athletes.
"For people like Jade, there's nowhere local she can train. She's got to go abroad to get the snow she needs to train properly."
Ms Inman added: "If we want to be a country that recognises elite sport we have to put more funding into it."
Ms Etherington and Ms Powell won silvers in the downhill, slalom and super combined, plus a bronze in the super-G in Sochi.
They also became the first British women to win a Winter Paralympic medal on the snow.
The pair have overtaken Denise Smith who won three silvers for Britain in Innsbruck in 1984.