Lincolnshire residents 'suffering' after warden cuts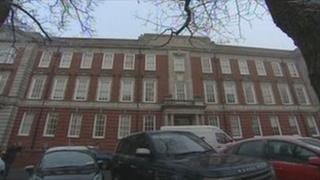 Some elderly Lincolnshire residents are "vulnerable" because their warden service has been taken away, a district councillor has said.
Warden services for more than 1,000 South Kesteven residents stopped this month because of funding changes.
Opposition Labour councillor Charmaine Morgan said "very vulnerable people... are not getting the support they need."
South Kesteven District Council said the service ended after the county council changed funding arrangements.
'Made ill'
A spokesman for Lincolnshire County Council said although one-to-one services were not offered in South Kesteven, emergency assistance was available.
Eileen Kallum, who lives in a housing scheme in Grantham, said residents in her complex were worried about the change.
"We have got residents here who are vulnerable and can't get out at all - and they were supposed to get a call every day but they have had nothing.
"It is upsetting them and making some of them ill - because they are worried as there is nobody there at all," Mrs Kallum said.
She said the wardens used to help residents with doctor's appointments and a range of household problems.
Councillor Morgan, an opposition Labour member of the Conservative-led Kesteven council, said: "I know how much it means to people especially if they are living on their own and feel isolated."
Sheltered housing is provided at the local level with some funding from the county council.
County council spokesman Tom McGinty said: "If someone is having particular difficulties, (we can) provide a short burst - six weeks or so - of face-to-face support for people until they get back on their feet again."
He said the county's new "wellbeing" scheme will not provide "face-to-face assistance" on a daily basis, but added that most district councils were still providing "some level of warden service".
The county council has to save £49m over the next two years due to funding cuts.