Skegness car park traveller site prompts 'more powers' plea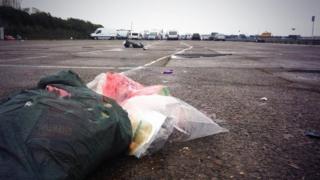 A council has said it needs more powers to deal with travellers after an illegal site was set up in a resort.
East Lindsey District Council said pitches were set up for 70 caravans in Princes Parade, Skegness, over Easter.
Council spokesman James Gilbert said because the courts were closed the authority was powerless to do anything.
Ryalla Duffy, from the Lincolnshire Gypsy Liaison Group, said there is a shortage of official places for travellers to stay.
Mr Gilbert said: "We have our plans in place for situations like this so we can act very quickly but we are reliant on the courts issuing an order and that's no good on a bank holiday weekend."
"We were incredibly frustrated as there was a clear demand from local people for us to do something as quickly as possible."
Travellers gathered in the same car park in August and Mr Gilbert said the leader of the council would be writing to the government to ask for more powers in case it happens again.
In September, Local Government Secretary Eric Pickles issued new guidelines reminding local authorities in England of their legal powers to deal promptly with illegal traveller sites.
Mr Pickles said: "We've strengthened councils' powers so they have the confidence to take decisive action. Too often council officers wash their hands and say nothing can be done."
Powers available to local authorities include temporary notices to remove unauthorised caravans, pre-emptive injunctions that protect vulnerable land in advance, and possession orders to remove trespassers from land.
However, Ms Duffy, said the issue was not that simple as many from the travelling community could not stay on normal camp sites because commercial vehicles are not allowed and many travellers have their homes combined with their businesses.
She added that 20% of the travelling community were effectively homeless and forced to stay on illegal encampments.
East Lindsey District Council has identified a need for 20 transit pitches in the area, divided into three sites, with two located on the coast.