Sutton Bridge council supersizes graves for obese people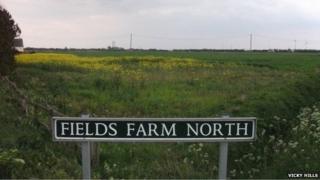 A council is expanding the size of graves to accommodate obese people - and could charge extra for larger people to be buried in them.
The 30 supersized plots will be located near the entrance of the burial ground in Lincolnshire so coffins do not have to be carried as far.
Sutton Bridge and Wingland Parish Council said it was responding to requests from funeral directors.
The new three-acre burial ground is expected to open next year.
Councillor Vicky Hills told the Spalding Guardian and Lincolnshire Free Press that the need for larger plots was "the result of people not being responsible for their weight".
She told the BBC: "It was the funeral directors' request that we facilitate oversized burial plots as near to the entrance as we could.
"If you can imagine you've got your coffin as well, then you've got your body. It's totally dead weight, to coin a pun."
The new burial ground is being created because space is running out at the existing graveyard in Sutton Bridge.
It will be located at Fields Farm North and the council is due to submit a planning application to South Holland District Council.
Charges have not been set but the larger plots could cost more than standard ones, Mrs Hills said.