'Short-sighted' driver jailed over death of woman, 93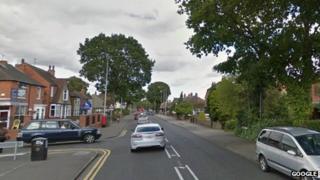 A short-sighted motorist has been jailed for killing a pedestrian after driving at 15mph (24km/h) wearing his wrong glasses.
Peter Conroy, 73, drove into Audrey Noden, 93, and her daughter Margaret Elvidge, 63, who were on a crossing on Boultham Park Road, Lincoln.
The city's crown court heard Conroy, who was wearing his reading glasses at the time, had two near misses shortly before.
He was jailed for two years.
He was also banned from driving for 10 years, although his licence has already been revoked by the DVLA.
Conroy, of Shakespeare Street, Lincoln, admitted causing death by dangerous driving on 4 September 2012.
'Effectively blind'
He had been driving his Ford Mondeo slowly along the road, causing a long queue to build up behind him.
Conroy ignored warnings from the driver behind, who was flashing her lights and sounding her horn, and drove straight into the mother and daughter, Lincoln Crown Court was told.
Mrs Noden suffered fractures to her pelvis and her leg. She spent a month in hospital before being transferred to a nursing home where she later died.
David Allan, prosecuting, said police gave Conroy a roadside eye test at the scene to check if he could meet the legal requirement to see a number plate at 20 metres. He was less than four metres away before he could give an accurate reading.
Mr Allan said: "He was unfit to be driving a car. He simply failed to see these women.
"His right eye was effectively blind and he was short-sighted in his left eye. He needed glasses to see at a distance and his peripheral vision was badly affected by glaucoma in both eyes."
Alison Summers, defending, said: "It is accepted that his driving was dangerous. He is very sorry for the loss of this lady's life."