15mph death driver, 73, 'lied to DVLA about eyesight'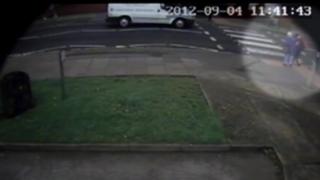 A 73-year-old partially-sighted driver who killed a pedestrian while driving at just 15mph should never have been on the road, his victim's family said.
Peter Conroy claimed he was wearing the wrong glasses when he hit a mother and daughter at a zebra crossing.
But the Lincolnshire Road Safety Partnership said Conroy was unfit to drive regardless of his glasses, and lied to the DVLA about his eyesight.
Conroy, of Shakespeare Street, Lincoln, was jailed for two years on Monday.
Audrey Noden, 93, died six weeks after Conroy's Ford Mondeo threw her through the air in Boultham Park Road on 4 September 2012.
Elaine Elvidge, one of her daughters, said: "He must have known that he couldn't see properly.
"The sentence is meaningless to us because it's not going to bring my mum back and it's never going to stop my sister being in pain for the rest of her life."
Her sister, Margaret Elvidge, was seriously injured by Conroy.
"I can remember being flung in the air and screaming," she said.
"I couldn't hear my mum at all and then she moaned.
"It was just horrible because she just laid there."
Conroy claimed the women ran across the crossing, but CCTV footage proved he was lying.
John Siddle from Lincolnshire Road Safety Partnership said: "Ninety-three-year-old women don't run anywhere.
"Even faced with the evidence, the CCTV footage, he continued to deny that he was at fault."
Conroy eventually admitted causing death by dangerous driving at Lincoln Crown Court.
Margaret Elvidge is still on painkillers, has post-traumatic stress disorder and depression, has rods and screws in her back and had to learn to walk again.
"I had to go to my mum's funeral in a wheelchair and it was just horrible," she said.
The court heard Conroy has glaucoma, is effectively blind in his right eye, and short-sighted in his left eye.
But he told the DVLA he was fit to drive when he renewed his licence at the age of 70.
His licence was revoked by the DVLA after the crash, and the judge banned him from driving for 10 years.