Spalding flower parade loss 'hits businesses'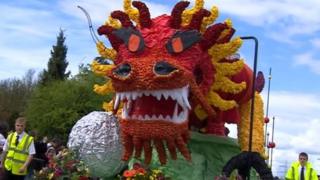 A town's hotel owner says businesses have suffered since a historic flower parade ended after 50 years.
The last Spalding Flower Parade, which celebrated Spalding's tulip heritage, was held in 2013 after two authorities removed funding.
Hoteliers in the Lincolnshire town say its cancellation has cost them thousands of pounds in lost bookings.
In its place a scaled down festival will be held on Sunday which organisers say could become bigger in the future.
Hotel owner David Stanbridge said other hotels and restaurants had also been affected.
"The May Day holiday was always the busiest," he added.
"The revenue we would normally achieve over the weekend was £7,000 and we would be full Friday, Saturday and Sunday.
"This year it has been a very different case. It has had a massive impact."
'Not left forgotten'
Each year the festival attracted big crowds and featured large, colourful floats made from raffia and tulips.
Former chairman of the event, George Slinger, said businesses should start to benefit in future.
"The businesses will miss out quite a bit because there won't be 150,000 people in the town," he said.
"But we have got caravan rallies going on and church flower displays so providing people still bring their money, we'll be alright."
David Norton from Springfield Horticultural Society, said the Tulip Mania festival on Sunday was designed to "plug the gap" between the parade and a replacement event.
He said: "I think there is a lot of interest in finding something else to replace the parade and not just leave it forgotten.
"Hopefully we can get creative to look at something new in the future."
Lincolnshire County Council said it supported the parade for a number of years but it became more difficult as attendances fell and losses became greater.