Grantham Environcom recycling plant fire 'caused by spark'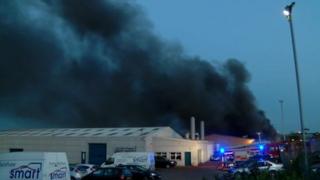 A fire at an electrical equipment recycling plant in Lincolnshire was probably caused by a spark from shredding machine used to dismantle fridges, a fire official said.
The fire at the Environcom plant in Grantham on Saturday evening caused extensive smoke damage to the building.
Ten fire engines and 60 fire fighters battled the blaze on Great North Road.
A Environcom spokesman said the quick response by the fire brigade was key to containing the fire.
"Their quick response made what could have been much worse fire - a lot better," Environcom chief executive Sean Feeney said.
No-one was injured in the fire, the second at the plant this year.
"We are still not quite sure how it could have happened with all the safety precautions and fire suppressants systems we have.
"It was exceptionally unusual (to have two fires in a short space of time) and the machinery we use is the very best and most sophisticated available in the world," said Mr Feeney.
Linda Ramscar of Lincolnshire Fire and Rescue said: "We established it was caused by a spark from a metal fragment within a shredding machine used to dismantle old fridges."
Environcom is a UK-based firm that specialises in the recycling of electrical equipment including fridges, ovens, washing machines, toasters and computers.