Boston dog attack: Woman and 80-year-old man injured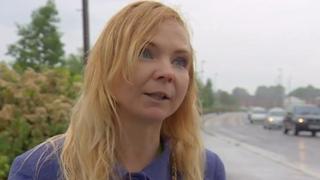 Two people have been injured in a dog attack in Lincolnshire.
Sarah Porter, 41, was hurt while walking her own dog in Margaret Drive, Boston, at 15:20 BST on Monday. She suffered deep lacerations to her back.
An 80-year-old man who intervened was also hurt, police said. He suffered a facial injury, bites to his hand and a fractured arm.
The dog involved was contained in a police van and later destroyed at the request of the owner.
Both victims were taken to Boston Pilgrim Hospital for treatment.
'Hero'
Ms Porter, told the BBC, she had been walking with her six-year-old son when the "Staffordshire-type" dog came out of nowhere and "rushed" at them.
"It didn't want me, it just wanted my dog," she said.
"So I picked her up and the dog started attacking me and biting me.
"By then we had realised there was no-one with the dog.
"All I thought was just someone come and help us."
She described the man who came to her aid as a "hero" and said he saved her dog's life.
Her dog, a Chihuahua, was also bitten several times.
Lincolnshire Police said two people were interviewed in connection with the attack.
Insp Jim Manning commended the passerby for his "courageous and selfless community spirit".
"The actions of the intervening passerby undoubtedly saved the lady and her dog from more serious injury and he has been badly hurt himself as a consequence," he said.