GP practices under 'strain' from increased holidaymakers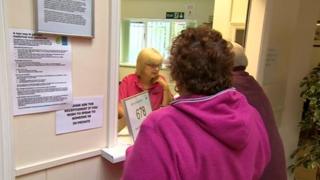 GPs in Lincolnshire are struggling to cope with the rising number of holidaymakers seeking medical help.
A patients' group says residents in seaside towns are facing lengthy waits to see their GP because appointments are being taken by tourists.
The group said the number of appointments going to temporary residents had doubled in three years.
The local health service said it recognised the strain and was introducing a number of initiatives.
More than 25,000 caravans take up sites across the region's coastal towns.
While some visitors go to the area for a few weeks, others can sometimes stay months at a time.
'Frustrated and angry'
Cathy Brockwell, practice manager at the Beacon Medical Practice, said the increasing number of temporary residents had put a "massive strain" on the surgery's staff.
"Every morning they are dealing with patients who are angry because they can't get an appointment on that day or on the day they would like," she said.
"Understandably, patients are frustrated and becoming angry."
The surgery in Chapel St Leonards near Skegness has seen the number of appointments for temporary residents increase from around 4,200 in 2010 to more than 9,000 last year.
Richard Enderby, from the surgery's Patient Participation Group, said: "If all the temporary patients appointments were charged back to the government there would be a chance to do something about it.
"But the system is out of date and the practices are losing out. If the practices are losing out, then the patients are losing out."
The CCG said it recognised the strain on coastal practices and, with the East Midlands Ambulance Service, had introduced a number of initiatives.