15mph death driver Peter Conroy loses sentence appeal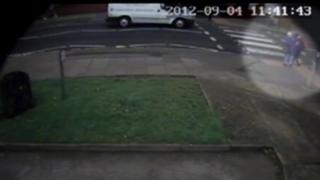 A partially-sighted motorist who killed a pedestrian while driving at 15mph has lost his appeal against his two-year prison sentence.
Peter Conroy, 73, was wearing the wrong glasses when he hit two women on a zebra crossing in Lincoln in 2012.
He was jailed at Lincoln Crown Court in April after pleading guilty to causing the death of 93-year-old Audrey Noden.
An Appeal Court judge said Conroy's car was a "potential lethal weapon" in his hands.
'Active, independent lady'
The court heard Conroy, who has glaucoma, could not see with his right eye and had limited vision in the left.
He had been wearing his reading glasses when he hit Mrs Noden and her daughter Margaret Elvidge in Boultham Park Road.
The victims were "entirely blameless", Lady Justice Sharp said.
Mrs Noden had been an "active, independent lady" before the accident, she said.
She was kept in hospital for a month with fractures to her pelvis and leg before she was moved to a nursing home, where she died.
Mrs Elvidge, 63, was left with fractures to her leg and broken vertebrae.
Earlier Conroy, of Shakespeare Street, Lincoln, had been seen driving his Ford Mondeo at 15mph and swerving over the road, narrowly missing a woman at a traffic island and ignoring drivers flashing their lights and sounding their horns.
Lied to DVLA
He was unable to accurately read a number plate at five metres, the court heard, and had not visited an optician since 2007.
Lady Justice Sharp said he must have lied to the DVLA to obtain an extension to his driving licence.
She said the offence was serious enough to warrant an immediate custodial sentence.
Conroy, who has learning difficulties, had been driving "without incident" for 40 years - including 32 years as a JCB driver.
But the panel of three judges ruled the seriousness of the offence meant an immediate custodial sentence was called for.
At his trial in April, Conroy was also banned for driving for 10 years.