Lincoln Mosque 'will prevent religious extremism'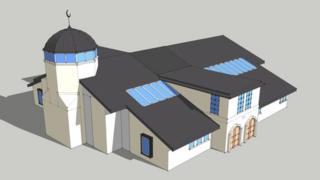 Muslim leaders say Lincoln's first purpose-built mosque will help turn people away from religious extremism.
Construction of the mosque on Boultham Park Road is expected to start in the next few months.
Radicalisation experts have warned that social media is being used to recruit potential jihadists in the UK.
But Tanweer Ahmed, chairman of the Islamic Association of Lincoln, said the mosque will be used to teach people the true meaning of Islam
"If we have a dedicated facility we are hoping to have regular lessons so that we can have the true teaching of Islam, and we also will be able to engage more actively with men, women and also particularly with the younger generation of Muslims," he said.
Mr Ahmed said non-Muslims will be welcome to come inside the mosque, to help alleviate any doubts.
The association has been based at a Baptist church since 1981, but says larger premises are now needed because the Muslim population of Lincoln has "grown rapidly" over the last two to three years.
Police in the county have a strategy that intervenes with people vulnerable to radicalisation, as part of the government's nationwide counter-terrorism strategy.
Called Prevent, it has helped 25 people in Lincolnshire over the last five years.
PC Rizwaan Chothia, an engagement officer for Prevent, said: "Of the 25 referrals, they've been a mix of what we would describe as faith-based al-Qaeda inspired Islamist referrals, as well as the extreme right-wing as well.
"We've got to make absolutely clear that Prevent is about all forms of extremism, not just a particular strand."