Sutton-on-Sea and Mablethorpe beach huts may 'go private'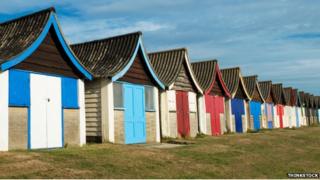 Dozens of council-owned beach huts in Lincolnshire could be run by a private operator under a new plan by East Lindsey District Council.
The chalets in Sutton-on-Sea and Mablethorpe would remain in council ownership, but would be leased privately.
The council said it would save £300,000 in maintenance costs over 10 years.
There are 360 privately-owned beach huts in East Lindsey District with another 71 owned by the council.
'Very 1960s'
Mablethorpe businessman David Ives said he supported the move as long as the "old-fashioned" council huts were upgraded.
Mr Ives, who runs a restaurant in Mablethorpe, said: "It doesn't matter who runs them as long as they are kept to a certain standard.
"They are old fashioned - very 1960s - so they need upgrading. We need to get into this century."
Council spokesman James Gilbert said private operators could be more flexible: "We had some great weather in March this year which we simply couldn't get them open for."
The council huts are open from May to September, but private owners could operate them all year.
The council huts cost £17.50 a day to hire, with a full season costing just over £1,000.
In 2012, the council removed 15 chalets that were in poor condition and built four new ones at a cost of £95,000.
Mr Gilbert said there were no plans to close or demolish its council beach huts, which had about 3,500 bookings last year.