Neil Hamilton seeks Boston and Skegness seat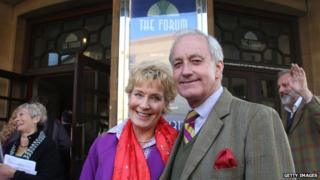 The deputy chairman of UKIP Neil Hamilton has announced he wants to contest the Boston and Skegness seat at next year's general election.
Rumours had surrounded Mr Hamilton's intention to stand in Lincolnshire after a recent constituency visit.
He confirmed to the Boston Standard newspaper he has applied to the local party and hopes to be selected.
The current MP is Conservative Mark Simmonds, a former minister who will not be seeking re-election.
Mr Hamilton was a Conservative minister in John Major's government, later defecting to UKIP after losing his parliamentary seat to Martin Bell in 1997.
"I came, I saw, I liked what I saw and that is what has made my mind up," Mr Hamilton told BBC Radio Lincolnshire.
He said he decided to stand in the constituency because it was in the region with the highest number of votes for UKIP in the country at the European elections in May.
"The whole of my political life has been fought to achieve [getting out of Europe] and so I obviously want to be in at the kill," he said.
"If Boston and Skegness can be the means of achieving that then that's the seat for me."
He claimed he wants to highlight the effect of immigration on the area.
He said: "I want to put Boston and Skegness on the front pages and because I'm a nationally known figure.
"I think I can really put the national searchlight on the terrible problems which have been foisted on the constituency."
Mr Hamilton's application will be considered by the local UKIP party which will draw up a shortlist of candidates ahead of selection on 11 September.