Millers sought to keep Lincoln's Ellis Mill sails turning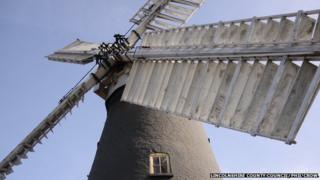 An 18th Century Lincolnshire windmill is in need of volunteer millers to help keep its sails turning.
Ellis Mill is the last of nine windmills which once stood in the Uphill area of Lincoln.
The mill worked until the 1940s, and in 1974 a fire damaged much of the Grade II-listed building. It was restored and produced flour again in 1981.
Lincolnshire County Council said volunteer millers would be able to make flour after six months of training.
Steve Dunk, from the Museum of Lincolnshire Life, said: "Ellis Mill is one of Lincolnshire's most interesting and unique tourist destinations.
"We welcome about 3,000 visitors a year and rely on volunteers to make each trip here a memorable one."
The first recorded owner of Ellis Mill was a wealthy landowner named Anthony Meres.
It went through a succession of owners until December 1894 when John Ellis bought the mill for £250. He died in 1920 but his wife and son successively retained ownership until 1973.
The mill is still in full working order and is now managed by Lincolnshire County Council.
A recruitment day for volunteers - either millers or guides - was held at the Museum of Lincolnshire Life on Saturday.