Facebook pool advert criticised after Kenwick Park fire in Louth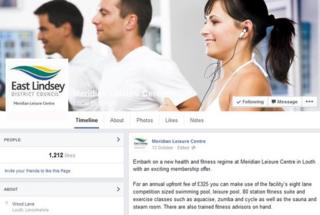 A council-run leisure centre has been accused of posting a "crass and distasteful" advert on Facebook after a blaze destroyed a nearby complex.
The fire completely burnt down the Kenwick Park leisure building, near Louth, in Lincolnshire, on Monday.
Later the same day, East Lindsey District Council posted "an exciting membership offer" for its Meridian Leisure Centre.
The authority said it had posted the advert after an increase in inquires.
However, the owner of Kenwick Park, Stuart Flynn said: "I do think it's a bit insensitive to say the least.
"There are an awful lot of people who have been members here for 20 years and I think it's a shame someone can be so unprofessional to do that."
The Facebook post also prompted a number of replies from members of the public.
One person wrote on the social media site: "A bit distasteful? I think the embers are still warm up the hill..."
Another said: "Just as another leisure facility burns down? Bit crass."
Facebook posts
---
---
Criticism was mainly about the timing of the advert, including this post: "Could of least waited till our flames went out," and another which said: "Hope you've shot yourself in the foot."
However, one post said people were being "dramatic" and the authority was entitled to advertise what and when it liked.
East Lindsey published this statement: "This post is in response to the fact the centre has received 100 or so enquiries today [Monday] in relation to the membership package on offer and we wanted to make clear what that package costs at the moment, and what's included."
A spokesman for the authority added that it is offering flexible packages so people can cancel their contract and return to Kenwick Park as soon as it reopens.