Lincolnshire Police 'could be unviable in three years'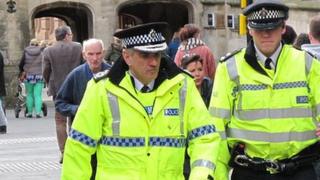 Lincolnshire's Chief Constable Neil Rhodes had said his force faces being "unviable" in three years and may have to merge with neighbouring police.
The force is cutting £19.8m from its budget by 2015 but said if projected finances were correct it would have to slash a further £11m in three years.
Mr Rhodes said it could lead to the loss of 236 of his 1,100 officers.
But the Home Office said there is "no question police will still have the resources to do their important work."
Earlier this year the government said it was considering changing the funding formula.
'Unacceptable cuts'
Mr Rhodes told a meeting of county councillors that if the way money distributed to forces nationwide was not changed, it could force the merger of Lincolnshire Police with a neighbouring force.
Speaking after the meeting, he said: "Having cut our budget in the way we have over recent years, the only real area left for significant savings is to reduce officer numbers.
"Eleven million pounds equates to around 236 officers. That would be an unacceptable level of cuts that would be very difficult to run Lincolnshire Police in the way that we have."
Mr Rhodes said the figures were based on the current formula and the total funds available, meaning he could "predict with a degree of certainty" what the force would receive, but admitted next year's general election could change matters.
He added that Lincolnshire received a poor deal relative to other constabularies and that the taxpayer had a higher burden in the county so he could not ask for more.
'Cutting red tape'
In April, the then police and criminal justice minister Damien Green visited Lincolnshire and said: "We are looking at the formula and hopefully we will come out with something that's fair to all at the end of it."
A Home Office statement said: "Her Majesty's Inspectorate of Constabulary recently found that forces can successfully manage to balance their books while protecting the frontline and delivering reductions in crime.
"We have made it easier for the police to do their job by cutting red tape, scrapping unnecessary targets, and giving them the discretion to use their professional judgement.
"The Government is already conducting a fundamental review of the way funding is allocated between force areas. This work is ongoing but we will consult with police forces and others in due course."