Boston and Skegness UKIP vote: Robin Hunter-Clarke named as candidate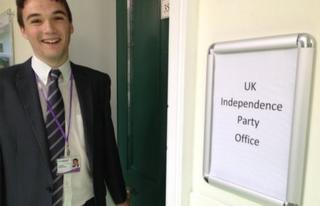 The UK Independence Party has selected a 22-year-old local councillor as its prospective general election candidate for Boston and Skegness.
Robin Hunter-Clarke was selected in a meeting at a brewery last Thursday, after UKIP's Neil Hamilton withdrew from the race.
Mr Hunter-Clarke said people wanted a local candidate.
He currently represents UKIP on both Skegness Town Council and Lincolnshire County Council.
He said in a statement: "I was born in Boston, have lived in Skegness all my life and know the issues affecting the constituency because I live with them.
"The people of Boston and Skegness have been asking that the UKIP candidate be somebody local and the branch has delivered just that."
Last June he told Newsbeat the party needed to win over younger voters.
Mr Hunter-Clarke stood for Skegness Town Council when he was 18, in May 2011, and won a seat representing the Conservatives.
His defection was announced at a UKIP conference in September 2012.
He then became a county councillor, representing Skegness South, in May 2013.
Analysis from Yorkshire and Lincolnshire political editor Tim Iredale
It has taken UKIP a full week to confirm that Robin Hunter-Clarke will be the party's general election choice in Boston and Skegness.
Party members met at Bateman's brewery in Wainfleet last Thursday to select their candidate.
His selection has finally been rubber stamped by UKIP's National Executive Committee.
As a county councillor for the Skegness South ward and a Skegness town councillor, few could question Robin Hunter-Clarke's credentials as a candidate with local knowledge.
Yet at the age of 22, some in the party may question whether UKIP is taking a risk by fielding one of its youngest candidates in one of its most winnable seats.