North Sea Camp prison told to take action over reoffending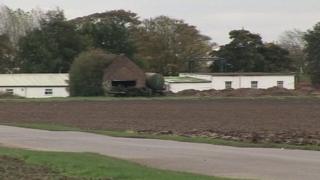 An open prison failed to prepare prisoners for release and ensure they did not reoffend after being allowed out, an inspection has found.
HMP North Sea Camp in Lincolnshire holds about 400 men, most of whom are coming to the end of long sentences.
The report criticised its role of preparing prisoners for release and said processes were "slack".
The National Offender Management Service said the prison was making progress.
The unannounced inspection was carried out in July when HM Inspectorate of Prisons visited the category D facility near Boston.
It followed a tightening of restrictions nationally after a number of cases of prisoners committing serious offences while on temporary release.
The report, released on Tuesday, said being allowed out had become seen as an automatic entitlement rather than a carefully controlled privilege.
'Reduce the risk'
Prisoners reported higher levels of bullying than seen in similar prisons and not enough was being done to understand their concerns, it said.
The easy availability of psychoactive substances such as 'Black Mamba' was also highlighted in the report.
Nick Hardwick, chief inspector of prisons, said North Sea Camp "had got its priorities right" in managing the men safely at a time of staff shortages.
He added: "The progress it has made needs to continue so that it does more, not just to hold men safely during their sentence, but to reduce the risk they pose of reoffending after release."
Responding to the report on behalf of the prison, Michael Spurr, chief executive of the National Offender Management Service, said: "Temporary release is a vital tool in preparing prisoners for release.
"I'm pleased that he [chief inspector of prisons] has concluded that after a thorough review the processes are now much more rigorously and safely managed."
Internal procedures at North Sea Camp have been improved and staff have been recruited to increase the amount of time needed to complete "rigorous multi-agency risk assessments", he added.