Lincoln 'cottaging' toilets sold at auction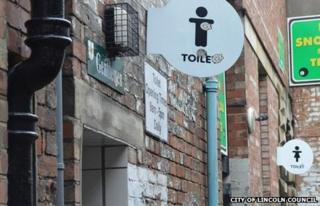 Public toilets which were closed following concerns they were being used for sexual activity are being sold at auction.
The toilets in Lincoln are being sold together with premises currently used as a snooker club.
A City of Lincoln Council report said the "problematic" St Peter at Arches toilets were not being used "for their intended purpose".
The council said money raised would be used towards growing its assets.
Council leader, Ric Metcalfe, said: "The toilets were declared surplus to requirements following the consultation and there are significant benefits in including the adjacent building, which is occupied on a leasehold basis, to provide a great investment and redevelopment opportunity."
The toilets were closed following a public consultation and are being auctioned on Wednesday.
'Scared to use toilets'
One local business owner told the BBC people were scared to use the toilets because of men meeting there for "cottaging".
He said: "Honestly, the best thing they can do is close the toilets.
"A lot of people get scared to use the toilets because they don't feel safe.
"A lot of people come in and ask to use my toilets."
Only the men's toilets were being misused, according to a council report.
However, Mr Metcalfe said the women's toilets "were not accessible for people with prams or mobility problems, and major work would have been needed to bring them up to the standards we aspire to".