'Hairy girly' grows Movember moustache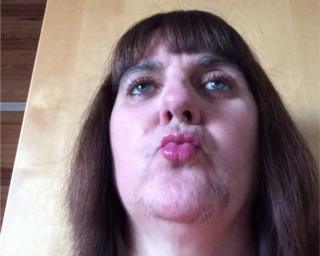 A woman has raised hundreds of pounds for charity event Movember by growing what she calls a "misstache".
Linda Cook, who describes herself as "quite a hairy girly", did not pluck, wax or remove any of her facial hair for the whole of November.
The 49-year-old from Lincolnshire wanted to raise money and awareness because her husband, Robin Cook, was diagnosed with prostate cancer.
She said he "wasn't too keen" on her plan but got used to it.
'You're so brave'
Mrs Cook said she had multiple sclerosis so could not get involved in traditional sponsored events, such as walks or runs.
So she instead decided to take part in Movember.
"It just seems quite a simple thing to do," said Mrs Cook, of Horncastle.
"Most of the ladies go 'Gosh, you are so brave' but I'm not doing anything.
"Normally I pluck every morning. It's like the routine; you cleanse, tone, moisturise, brush your teeth, pull the hairs out."
Mrs Cook, who has raised £329 through sponsorship so far, is due to have her face waxed at a beauty salon on Friday.
"It's so going to hurt - I'm like a wolf," she said.
"My tweezers are coming back to being my best friend again, if they forgive me.
"Back in Victorian times I would be in a freak show for bearded ladies."
Her husband, 54, was given the all-clear in October and Mrs Cook said it was lucky his cancer was caught in plenty of time.
She said her facial hair had been a talking point wherever she went in November and had encouraged people to discuss cancer.