'Dogging hotspot' Seacroft Marsh Skegness gets wildlife funds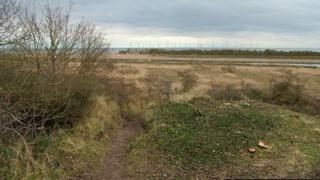 Sand dunes in Skegness, which made headlines last year as a "dogging" hotspot, are to be actively managed for wildlife after a grant.
The government has given £42,290 to the local council to manage the Seacroft Marsh area on the Lincolnshire coast for the next ten years.
The dunes have become overshadowed by dense scrub, a councillor said.
A group called Friends of Seacroft Marsh was set up in May 2013 to tackle public sex gatherings in the area.
Work is due to start on the area, which is part of Gibraltar Point nature reserve, in the New Year.
The marsh already attracts birds, including chiffchaffs, cuckoos and reed buntings, as well as mammals like badgers, foxes and muntjac deer.
But East Lindsey district councillor Steve O'Dare said the site has declined in recent years because of increasing dense scrub that shades dune plants.
"Restoring it to typical grass covered dunes is a high priority for the government's nature conservation advisors Natural England," he said.
"The council has to undertake the work that is planned to meet the Natural England requirements."
Contractors will begin removing invasive buckthorn on 7.3 hectares of the outer dunes next year and continue to trim back re-growth over the next ten years.
The Gibraltar Point Nature Reserve is visited by hundreds of people each year, the council said.