Dozen African 'illegal immigrants' found on lorry in Pinchbeck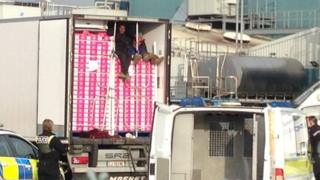 About a dozen suspected illegal immigrants from Africa have been found inside a lorry on a Lincolnshire industrial estate.
Police said the lorry is thought to have travelled from Calais on Wednesday morning to a distribution centre in Pinchbeck, near Spalding.
Those inside, which includes adults and teenagers, are believed to have come from Eritrea, Lincolnshire Police said.
Insp Jim Tyner, of the force, said investigations were ongoing.
"Some of them are unwell with symptoms of hypothermia and our priority is to look after them," he said.