Heckington Windmill restoration project faces shortfall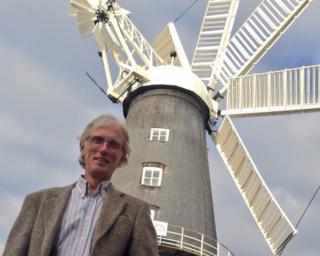 A project to restore England's last surviving eight-sailed windmill is facing a £100,000 funding shortfall.
Heckington Windmill, near Boston, began production of flour again in 2014 in the first phase of the project.
The site, owned by Lincolnshire County Council, has previously received £1m from the Heritage Lottery Fund.
But manager Jim Bailey said more money was needed to complete restoration of buildings on the site to turn them into a visitor centre and exhibition area.
Mr Bailey it had taken four years for the authority to raise the money to replace rotten sails.
"It has taken a long time but it has been worth waiting for," he said.
"We are now doing what this windmill was designed to do."
'Part of heritage'
Emergency work started at the mill last week after asbestos was found in the former granary and cart shed.
Mr Bailey said there were plans for the granary to become a heritage centre.
It would include a history of the windmill and milling in Britain as well as stories of the families who lived and worked on the site.
There are plans for the cart shed to become an outside exhibition area with the bakehouse expected to open again.
"We have lottery funding but we still need more money to fund the work we want to do, at the standard that we want, and have a facility that Lincolnshire can be proud of," said Mr Bailey.
"This is a Grade I-listed windmill. It is part of our heritage in Lincolnshire.
"We are the custodians of this one remaining eight-sail windmill and we must ensure that it survives for future generations."