Tesco drops plan for Sleaford and Mablethorpe developments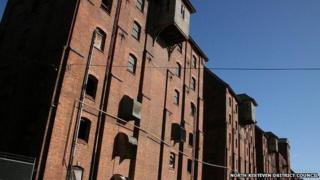 Major building projects have suffered a blow after Tesco said it had dropped plans for two stores in Lincolnshire.
A new store was key to a controversial development in Sleaford, including the derelict 13-acre Bass Maltings complex.
In June 2014, North Kesteven District Council (NKDC) moved to compulsorily purchase nearby park land after years of dispute with the town council.
Tesco also said it would not build a planned store in Mablethorpe, which was the centre of a housing scheme.
The retailer received planning permission for a new store in Sleaford in 2009, but the scheme was halted because the town council said a link road would destroy vital community land.
Despite the delays, the supermarket had said it was keen to continue with the plans.
The £20m store was expected to create or safeguard 430 jobs, provide 600 parking spaces and help with wider infrastructure costs.
But Tesco has suffered a series of financial setbacks and has now announced 49 new stores across the UK would be cancelled.
Dave Lewis, chief executive officer, said: "I know that this news will be a real disappointment to many people in these local communities and we're extremely grateful for the support we've received for our plans.
"I am very aware of the importance of these sites to the area and I am determined that we will work closely with the respective councils to find the right solution for the local community."
NKDC's leader, Marion Brighton said she was "committed to a solution" for the Maltings.
"It remains our aim to see this large, central brownfield site developed for the benefit of the town and I am certain that those parties committed to jobs and investment in Sleaford will continue to engage in planning for a prosperous future.
"Reassured by Tesco's pledge to work with us in finding the right solution for the community, we will of course keep members, residents and businesses informed as the situation becomes clearer."
Mayor of Sleaford, Keith Dolby, said: "We want progress for the town and this plan was not progress.
"We are expecting between 4,500 and 6,000 new homes to be built in Sleaford in the near future and where is the infrastructure? We need schools and GPs, a supermarket was at the bottom of the list."
East Lindsey District Council, which oversees the Mablethorpe plans, said the news was disappointing and it would be meeting with site developers Lindum shortly "to fully understand the implications of the Tesco decision".
Lindum Group director Paul McSorley said he was "somewhere between very disappointed and devastated".
A smaller store in Tattershall will also not go forward.