Lager pouring marks start of Boston street drinking ban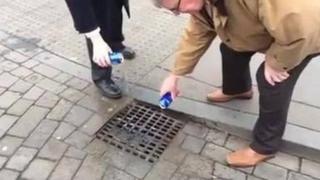 The start of a ban on street drinking in a Lincolnshire town has been marked by officials pouring lager down a drain.
Boston Borough Council voted in favour of creating a drink-free zone at a meeting in December.
The move follows two rounds of public consultation which showed support for the ban, the authority said.
Anyone caught drinking alcohol will be subject to arrest if they do not stop when ordered to by a police officer.
Drinkers face fines of up to £500 after a second offence.
Councillor Stephen Woodliffe, from the authority, said the ban, which he believes to be the first of its kind in the country, will be enforced.
He said: "Up until now you've had to have a good reason for taking alcohol off somebody. You had to believe that person was likely to commit an offence."
"That was the problem with the previous legislation," he said.
"Now the act of drinking alcohol in the street is the offence."
Mr Woodliffe added that the ban was a response to pressure from the public who wanted to see more action to tackle anti-social behaviour in the town.
The authority said if it was successful it would look to reinstate seating areas in Boston, some of which were removed to deter drinkers.