Dambusters bomb shelters used for bat roosts at Tattershall Carrs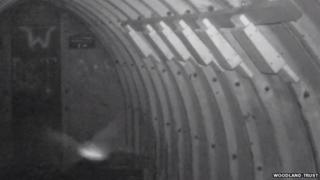 Bomb shelters on a former RAF site used by the Dambusters squadron have been converted into bat roosts.
The Woodland Trust has converted 11 shelters into hibernation areas for bats at its Tattershall Carrs site, in Lincolnshire.
Almost 100 buildings of various types were constructed on the site during World War Two.
This includes bomb shelters used by members of 617 Squadron including those who carried out the Dambusters raid.
Site manager Ian Froggatt said: "We've always been proud of the rich history at Tattershall Carrs and we are excited that this [history] will also benefit nature.
"This is ancient woodland and is a site of special scientific interest - so it's nationally significant for the wildlife that's in here."
He added the shelters were full of rubbish after the camp was abandoned at the end of the war, but were now being put to good use.
The 29 hectare (72 acre) woodland, which was originally part of RAF Woodhall Spa, is already home to a number of species of bats, including brown long-eared, pipistrelle, natterers, noctule and Daubenton's bat.
The trust hopes the current project, which was funded by a £10,000 grant from Biffa, will help increase the reserve's bat population.
It plans to monitor numbers using the shelters and organise educational tours.
Part of the wartime base still remains at the site and is undergoing a programme of renovation by the Thorpe Camp Preservation Trust.