Protest over cuts to fire service in Lincolnshire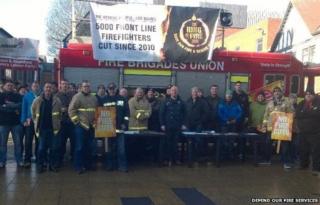 Demonstrators gathered to protest about proposed cuts to the fire service in Lincolnshire.
Lincolnshire Fire and Rescue has to save £1.23m, which equates to 6% of its annual budget, as part of county council cuts.
The county's chief fire officer said the proposals would not have a "significant" impact on the service's ability to protect the public.
But the Fire Brigades Union (FBU) said the cuts would endanger lives.
It is urging people to take part in a six-week consultation, which ends on 6 February.
Dan Taylor, brigade secretary of the FBU in Lincolnshire, said in a statement: "These proposals will impact on every single community in the county.
"They are dangerous and will devastate fire services for years to come."
The demonstration was supported by a new community campaign group called Defend Our Fire Services.
Its spokesperson, Elaine Smith, said most people did not know a consultation is being held.
"We want to let people know what's happening because there have already been reductions and there are going to be further reductions," she said.
"I believe that the people of Lincolnshire should not have to tolerate another emergency service that cannot function effectively due to staff cuts and inadequate funding."
The campaigners have started a petition against the cuts, calling on the county council to "demand" more money from central government to fund the fire service.
Dave Ramscar, chief fire officer for Lincolnshire Fire and Rescue, said: "We are confident that our proposals will have no significant impact on our ability to protect the public.
"The county council has to find annual savings of £90m and it's only right the fire service plays its part.
"However, we will do this in a way that will minimise the impact on front line services."