Lincolnshire fire ambulance project prompts union fears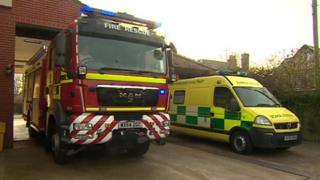 A union has called for more safeguards in a project where fire crews respond to medical emergencies in ambulances.
The Joint Ambulance Conveyance Project (JACP), which began in September, has seen crews at three Lincolnshire fire stations called out 70 times.
The Fire Brigades Union said while it backed the basic idea, bosses were "chancing it" that a big fire would not happen while crews were in ambulances.
But managers said benefits outweighed a "small risk" of a call-out clash.
The year-long JACP pilot is backed by a £491,000 government grant.
---
JACP pilot fire stations
Long Sutton (September)
Woodhall Spa (October
Stamford (January)
---
Officials said it built on an existing scheme, where medically trained fire crews supported East Midlands Ambulance Service (EMAS), in fire service vehicles.
Richard King, one of the crew at Long Sutton, said [of the new scheme]: "In the time we have been doing it, we have missed two fire calls, one to an animal stuck in a ditch and the other a medical emergency."
Karl McKee, from the Fire Brigades Union, said: "At any one time we can have 10-15 fire engines, a third of the fleet, off the road due to staff shortages.
"We have a statutory duty to provide fire cover and while using spare capacity is a good idea, we need to be sure both appliances are crewed properly.
"A delay of 10 minutes may not sound much but if it is your house, you in the car crash, that is a long time."
Referring to the scheme in place before the pilot began, Nick Borrill, Deputy Chief Fire Officer for Lincolnshire, said: "Crews at Long Sutton have been responding to an average of 500 medical calls a year and in the past two years, missed no fire-specific calls."
EMAS said patient feedback had been "very positive". A decision on whether to extend the pilot will be taken after it ends in September.