Lincoln City FC's Sincil Bank mural branded 'monstrosity'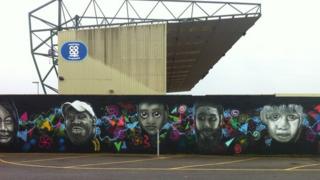 A mural at Lincoln City FC's ground has been branded a "monstrosity" on social media.
The artwork at Sincil Bank, created by young people, appeared this week and features an image of ex-manager Keith Alexander, who died in 2010.
Facebook users responded with a barrage of criticisms on BBC Radio Lincolnshire Sport's page after it posted an image.
The trust behind the mural said that even the world's greatest artworks are not liked by everyone.
Passers-by told BBC Radio Lincolnshire, the mural "brightened the place up" and was "bright and colourful".
However, Facebook users called it a "monstrosity", "a bit scruffy" and "something you would find on a derelict building".
Jay Dumphreys wrote: "Isn't it a hefty fine for graffiti these days? Not keen at all."
The mural was the idea of young people from the Lincolnshire Employment Accommodation Project who approached the football club's sport and education trust.
Paul Hamnett, manager of Lincoln City Sports and Education Trust, said the mixed response was "a talking point".
"Art - you either love it or you hate it - some of the world's greatest masterpieces people don't like," he said.
"It's just allowed people to express themselves in a controlled environment."