Margaret Thatcher bypass plan in Grantham 'totally wrong'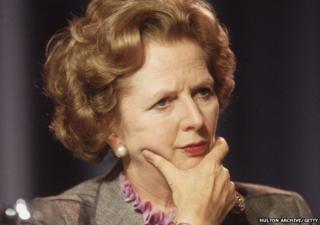 A plan to name a new bypass after Margaret Thatcher has been branded "totally wrong" by Labour councillors.
Work on the relief road in Grantham, the former Prime Minister's hometown, is due to start in March.
Conservative councillor Ray Wooten has asked Lincolnshire County Council to consider names, including Lady Thatcher Way, but admits it is "controversial".
Local Labour leader Charmaine Morgan suggested "Heroes Way" to mark all the military bases along the route.
The multi-million pound link road connecting the A1 to the A52, south of the town, was approved in 2013.
After Lincolnshire County Council said work could start in the spring, Mr Wooten suggested the authority name it after Baroness Thatcher, who died in 2013.
"I travel quite frequently to Derby and go along the Brian Clough Way, so I think either a Lady Thatcher Way or Margaret Thatcher Way would be a suitable title," he said.
"No matter what you think about Baroness Thatcher, she stood up for this country against Russia and the rest of the world."
But he admitted it might not be to everyone's taste.
Baronness Thatcher was born in Grantham and grew up in a flat above her father's grocery shop.
South Kesteven District Council's Labour leader, Charmaine Morgan, said there were plenty of "other famous Grantham offspring" to choose from.
"The view of the whole Labour group is that it's totally wrong to name that road after Margaret Thatcher," she said.
She suggested the road should instead be named Heroes Way because of the area's links to the armed forces - the Prince William of Gloucester Barracks and RAF Spitalgate are along the new road's route.
The Labour group also suggested naming it after Sir Isaac Newton, who was born in the town.
"There are so many other positive people who aren't contentious who we wouldn't argue about," she said.