'Medieval' musician launches goose bone appeal for Magna Carta ceremony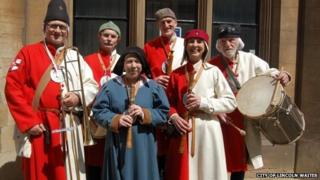 Fragments from a Norman goose bone flute found during work to build a new Magna Carta vault at Lincoln Castle have prompted an unusual appeal.
Al Garrod of the City of Lincoln Waites - a group of medieval-style musicians - wants to recreate the instrument to play when the new vault opens in April.
He has launched an appeal after trying to source bones from farmers and gamekeepers.
Mr Garrod said "everyone I've contacted says it's the wrong time of year".
The musician said although the flute discovery was quite rare, there had been similar finds in Canterbury, Norfolk and other sites in Lincoln.
He said: "I understand it might sound a bit strange, but they were making flutes from geese, swans, sheep, goats and deer for over 1,000 years."
"In my strange, nerdy kind of way, I can't understand why everyone else doesn't know about it."
Mr Garrod said he decided to make a replica after he was contacted about the find, but did not realise it would be so difficult.
"I know someone who can possibly make one for me, but getting the correct materials is the sticking point."
"I'm looking for anyone who might be able to help to get in touch."
He said the bone - an ulna - is the largest in the bird's wing.
Other items found during excavation work at the castle include skeletons thought to date from the Anglo-Saxon period, one of which could belong to a Saxon king or bishop, according to archaeologists.
The castle is currently closed while the final stages of the £22m Lincoln Castle Revealed scheme are completed.
The project includes a high-security underground vault, where an original copy of the Magna Carta will be displayed alongside the Charter of the Forest.