Gainsborough knife attacker: 'I wanted to hurt someone'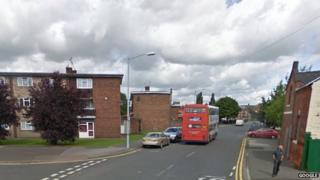 A student randomly stabbed a teenage girl at a bus stop because he was looking for "someone to hurt", after being thrown off his college course.
The 16-year-old, described as "academically bright", attacked the girl in Heaton Street, Gainsborough, in September, Lincoln Crown Court heard.
He stabbed his 17-year-old victim with a kitchen knife because he was angry, the court was told.
He was given an 18-month training and detention order.
The boy, who previously admitted a charge of unlawful wounding and possession of a knife, was also given a two-year restraining order, preventing him contacting the victim and from entering an area of the town.
Describing the attack, Phil Howes, prosecuting, said the girl had been waiting to catch a bus to Scunthorpe.
He said: "She became aware of the defendant's presence. She had known him for two to three years and spoke to him.
"Then she felt something hit her back. She cried out in pain.
"She was hit between the shoulder blades."
'Dangerous decision'
The victim's boyfriend applied pressure to her wound and the emergency services were called.
After the attack, the youth discarded the knife but remained nearby until police arrived.
When he was later interviewed, he said he did not want to kill the girl.
He told officers about being thrown off his college course.
He said: "I wanted to harm someone like I'd been hurt. I was angry."
"It wasn't supposed to be anyone in particular. I didn't even try my hardest. I never intended it to be vicious."
In mitigation, Ian Way, defending, said: "Nothing I say can justify what he did.
"The anger and distress festered and he came to what he recognises was a foolish and dangerous decision to take a knife from the kitchen and set off."
Judge Michael Heath said a custodial sentence was necessary to reflect the seriousness off the offence.