Larkfleet Homes launches legal challenge to Grantham bypass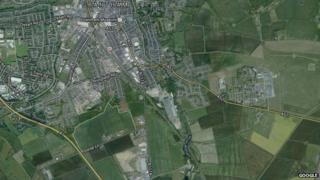 A legal challenge which threatens a town's long-awaited relief road has been launched by a housing group.
Planning permission for the Grantham bypass, which will be partly funded by a development of thousands of houses, was granted in 2013.
Larkfleet Homes, which wants to build 550 properties on another site, said it was concerned about the environmental impact of the bypass proposal.
Lincolnshire County Council said it was determined to build the bypass.
Congestion in the town was first raised as a problem in the 1970s, which was partly solved by the A1 bypass, but the A52 still runs through the centre.
Plans for the relief road were approved in 2013 with work due to start next month, while Buckminster Estate's development of 3,700 homes could begin in 2016.
'Disappointing'
Larkfleet Homes said the challenge, which has been lodged at the Court of Appeal, would delay the start of the project but the council said it was getting on as planned.
Councillor Richard Davies, the Conservative cabinet member for highways, said: "This road has been desperately needed for decades in Grantham.
"I think it is disappointing that people are allowing their personal, commercial interests to outweigh the needs of the community."
Lincolnshire-based Larkfleet Homes, which wants to develop on the opposite side of Grantham, said it was only concerned about the environment.
In a statement it said: "Our concern is that the environmental impact assessment for the road has looked at the impact of that proposal without taking into account the impact of the housing project.
"We believe therefore that the permission for the road is not lawful and should be quashed."
No date has been fixed for a court appearance although it is expected to be in spring.