Baby Dax: US premature baby couple allowed home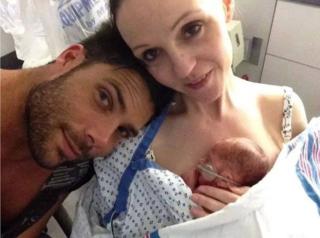 A British couple who were stranded in New York after their baby was born prematurely have been allowed to fly home with him.
New parents Katie Amos and Lee Johnston, both aged 30, were on a four-day break when their son was born on 28 December, in the middle of the trip.
Baby Dax, who was born 11 weeks premature, weighing just 3lb (1.4kg), was flown home in a private jet.
He is being cared for at the Pilgrim Hospital in Boston, Lincolnshire.
The couple, from Burgh-le-Marsh, near Skegness, said it was great to be back.
They originally thought they would not be allowed to fly until Dax's due date, in March.
However, Dax, who now weighs more than 5lb, (2.26kg), was allowed to travel on Friday in a medically equipped jet.
During their trip, Richard Crow, a friend of the couple, set up a Facebook page and a fundraising appeal to help them pay their living expenses whilst stuck in the US.
Mr Johnston is a self-employed personal trainer so was not being paid.
He said he was "really grateful" to everyone who helped.
The couple were also provided with accommodation in a charity hotel close to the hospital where Dax was being cared for.